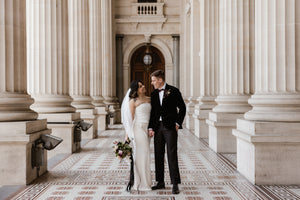 Hillary & Cameron's Melbourne registry micro wedding was an absolute stunner! After a quick first look at the Windsor Hotel it was on to the old Treasury Building for a...
Jaye & Adam had themselves an absolute party! This wedding features a banging sunset at Mount Mitchell estate, clean & elegant vibes styled by the Elderberry Events team, their two...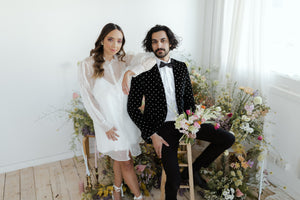 "A Brunswick take on a Parisian night. A floral driven-whimsical playground bursting with colour, texture and all things French. Creating this scape in the iconic Mariana Hardwick Building, built in...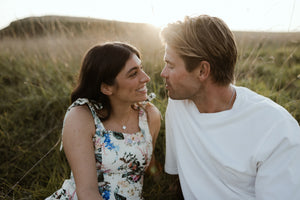 A classic Mornington Peninsula sunset session with Sarah & Levi We had some pretty sweet afternoon light for this session. It was all about capturing their connection through intimate images...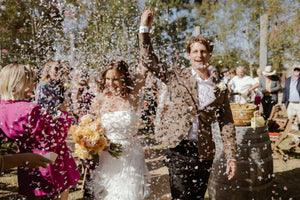 A stunning little wedding along the Bellarine Peninsula, Geelong featuring incredible golden sunset light, a classic vinyl spinning legend & a dance floor for the ages! Laura & Jords planned...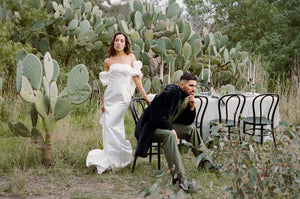 Mr & Mrs Deadly Bringing together some of the wedding industry's finest this styled shoot was designed to push the boundaries & break free of traditional wedding styles  I decided...
Kate & Maggie    A beautiful Mornington Peninsula wedding at Dromana Estate Winery that was absolutely packed full of heart & good vibes. Kate & Maggie got ready together in...
Frank & Sammy started their day with a beautiful first look & some time spent with their wedding party in amongst the most amazing Autumn colours.  They had a simply...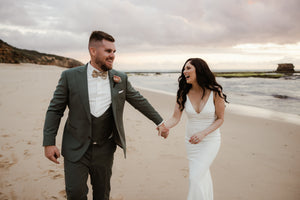 This wedding was full of heart, all about family & friends & enjoying the whole day together. We started with getting ready photos in the same stunning Airbnb property in...
Ruth & Tom at Portsea Hotel, Mornington Peninsula  This was a big one, full of heart & special moments. Ruth & Tom have family in both the UK & New...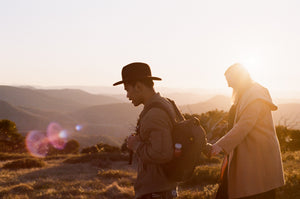 Emma & Sophat Mt Hotham Adventure session    These images were taken on a mix of both digital & film cameras (35mm & square 6x6 medium format)   We set...
Sharon & Brayden found me in a Top 10 Wedding photographer blog & reached out for a Couples sunset session on the Peninsula - which is also on my website...
Laura & James at Willow and Stone Estate, Ballarat  This wedding was captured on a mix of digital & classic film cameras on 35mm & medium format. It's was an...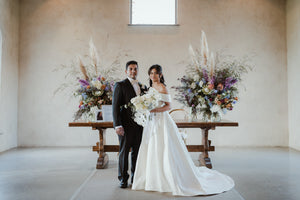 Stones of the Yarra Valley  This venue is truly stunning especially in the peak of Autumn with these earthy tones covering the Chapel vines & the trees lining the driveways...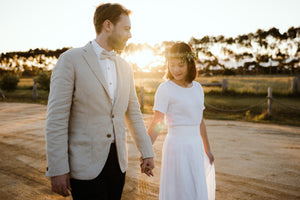 Aya & Tom's forest elopement  This is Part One of a two part wedding/elopement. Aya & Tom dreamt of eloping amongst the ferns & I knew just the right place...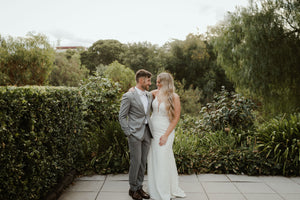 Lisa & Davids wedding had it all!  Getting ready in a giant tree house & an incredible ceremony exit. Then on to a wild reception with a next level groomsmen...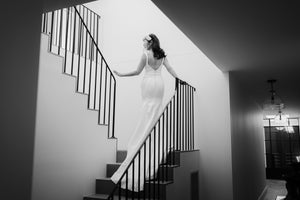 Odna & Nikitas wedding at Quad Quatta, Melbourne    This is what it looks like when you hire stunning airbnbs for your getting ready photos. Styled to perfection this day...
Gabby & Harry at Willow & Stone Estate, Ballarat This would have to be one of the most relaxed weddings I've ever shot! We started by playing some basketball with...
A sweet industrial style wedding at Luna Event space in Highett, Melbourne captured by Dust & Salt photography Breanna & Dave spent the morning together in their home getting ready &...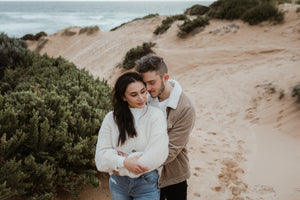 Sharon & Brayden braved the cold winds for this sweet sunset session along the back coast of the Mornington Peninsula captured by Dust & Salt photography  We explored the sand...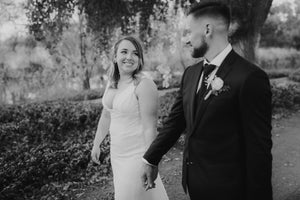 Mewburn Park is an incredible venue in Gippsland with loads of variety & plenty of spots for great photos. After some getting ready photos they had a first look in...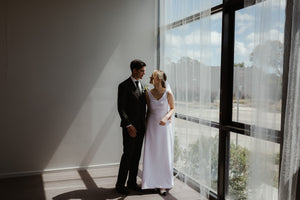 Clara & Connor at Commonfolk Coffee on the Mornington Peninsula    These two planned a sweet day with loads of time spent with their loved ones. It was a party...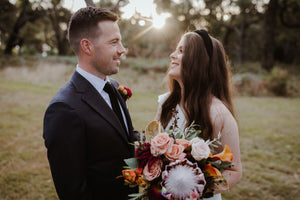 Kyra & Keegan. Tanglewood estate in the peak of Autumn is the perfect setting for a beautiful wedding & we made the most of it exploring some of the properties truly...
Katrina & Calvin created a stunning private property micro wedding with their closest family & friends. We started the afternoon with their first look in a small pocket of light in...
Meredith & Tom created a beautifully relaxed day surrounded by a handful of friends & family at  The Little Church Spring Hill. After their epic adventure session in the Grampians,...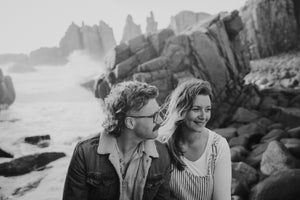 This adventure session was next level! We met down on Phillip Island where it was raining & the wind was crazy. So we jumped in the van & had a...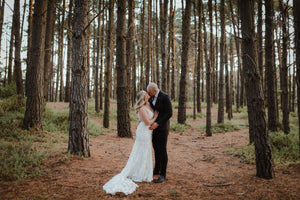 Holy moly! Where do I start… It was the day the snap lockdown came in & the day before their planned elopement. I got a call from Vicki -  'We're...
A dream adventure session up in the Grampians with a rad couple! We spent our first afternoon hiking up to Hollow Mountain to explore the caves & spend sunset at...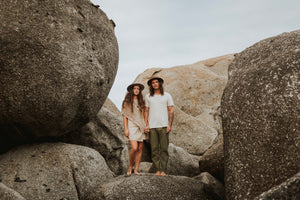 Chasing the light!  We started this epic adventure session with a stunning sunset amongst the sand dunes & continued the next day with a sunrise swim & some coastal exploringMaisy...
This shoot was straight up fire!  we started with some accidental four wheel driving in a mazda 2! but recovered with smoke flares in a hidden forest on the peninsula...
Kind words...
"These are fucking amazing! So glad we had you by our side, even through the adventurous afternoon you made us laugh, relax & feel 100% ourselves" - Ed & Caro
"Lachy is extremely professional along the whole way of the journey and has a very calm and relaxed nature which is something we really valued on the day. We highly recommend Lachy and his services for your big day. He has captured moments of the day that we will now cherish forever" - Rob & Jayde
"It's actually hard to put into words how amazingly talented Lachy is, and we feel so immensely blessed that he captured our wedding. Not only is his work truly epic! He was an incredibly calm & fun person, making you feel so relaxed and allows you to remain in your newly wedded bliss through the whole experience. If you are lucky enough to secure Dust & Salt for your special pics, whatever they are for, I know you'll feel the same way we have!"  -  Naomi & Bec  
"Highly recommended! We love our wedding photos so much. He understood what we were going for and really embraced it and it felt like he was just another friend at our wedding. Made our day so relaxed but also fun. Thanks again Lachy, best day ever!"  -  Casey 
"Lachy takes the time to get to know you, what you want, what your vision is, and how to make it work. In saying that - he's so talented and has such a good eye that you can give him no clue as to what you're looking for, and he'll still capture it. Looking through his work over & over again never fails to leave me reliving the day, because somehow he's managed to capture the feeling, not just the moment. And it's beautiful"  -  Emily